Residency by investment (RBI) is becoming more popular than ever, especially within the confines of the EU. Modern investors realize that having an active EU residence permit brings benefits that outweigh traditional citizenship by investment programs.
Access to the EU is unhindered, as a residence permit in Greece, for example, gives its holder freedom of mobility within the Schengen Area.
However, the additional – and true benefit – is obtaining a Plan B in a country that offers a living standard equal, if not even better, that an investor's home nation. Holding a residence permit within the EU gives investors and their families security, stability, and contingency other investment migration destinations can rarely provide.
However, one issue remains, as the European continent is lush with RBI programs, and investors may ponder which one provides them with the greatest benefit, and that is where Greece's golden visa comes in.
10,000 investors can't be wrong
The Greek golden visa, having paved the way for over 10,000 investors, in addition to their accompanying family members, has always been one of the most popular RBI programs in the world, not just in Europe, and it is not difficult to see why.
The premise of the golden visa is simple, investors who make a qualified investment can obtain Greek residence for themselves, their spouse, and their financial dependents consisting of children under 24 years of age, parents, and parents in law.
The simple basis of the program is complemented beautifully by the quick processing time. Successful applicants can obtain their golden visa in as little as three months, and the process is simple; all they need to do is make their investments, compile their files, and submit an application alongside biometrics. They then receive a long-term residence permit, valid for five years and renewable for the same period indefinitely as long as they maintain their investment.
Another alluring aspect of the program is that it does not require any physical residence at all, as applicants do not need to spend any time in Greece to renew their resident permits, making it a great option for investors who wish to set up future a pathway for their children without needing to instantly relocate.
The minimum investment threshold is set at an affordable €250,000, making it one of the most economical RBI programs in the world.
EU Golden Visa Comparison: The most affordable choice
Many onlookers or interested parties tend to compare Greece's golden visa to other similar options located in Southern Europe, as the countries of Spain, Portugal, and Malta all have their respective RBI programs.
Greece vs Portugal & Spain Golden Visa 2022
However, one major difference that is apparent from the start is the relatively low cost of the Greek golden visa. Spain, for example, requires a minimum investment of €500,000 in real estate, double what Greece requires.
Portugal is seemingly close in its pricing of a minimum of €280,000 for real estate, but that number does not tell the whole story. At that threshold, applicants are restricted to buying properties older than 30 years that have undergone rehabilitation and are situated in low-density areas. Greece does not impose such restrictions on its applicants, as they can choose any property – or conglomeration of properties – they desire.
If an applicant wishes to buy a newer property under the Portuguese golden visa, they have to raise their investment to €500,000, double the investment requirement in Greece.
The Greek Golden Visa Programme vs Malta Residence & Visa Programme
Malta's program is another story entirely, requiring a cornucopia of various investments for applicants to qualify. Applicants must buy real estate for a minimum of €350,000 (or €300,000 in Southern Malta or Gozo), or choose to rent a property for a minimum annual rent of €12,000 (or €10,000 in Southern Malta or Gozo).
They must also make a donation to the government worth €28,000 if they purchase a property or €58,000 if they choose to rent.
Malta also requires applicants to make a €2,000 donation to an NGO and pay a non-refundable €40,000 processing fee. If applicants wish to purchase property, their minimum total comes down to €370,000, while if they choose to rent, the sum is €150,000, but none of it is recoupable.
Hence, Greece offers the best option in terms of cost, as an applicant only needs to invest €250,000 and can resell their property to get their money back, or even make a profit through appreciation.
But what really sets Greece apart is the flexibility awarded to investors, as they are able to create a real estate portfolio in one of the world's most prominent tourist destinations. Applicants can buy flats in Athens, homes in Larissa, or beach houses in Santorini. They have complete control, allowing them to make the best investment possible in terms of quality, profitability, and re-saleability.
But one of the most outstanding benefits of the Greek golden visa is Greece itself.
Life in Greece, where serenity and opportunity meet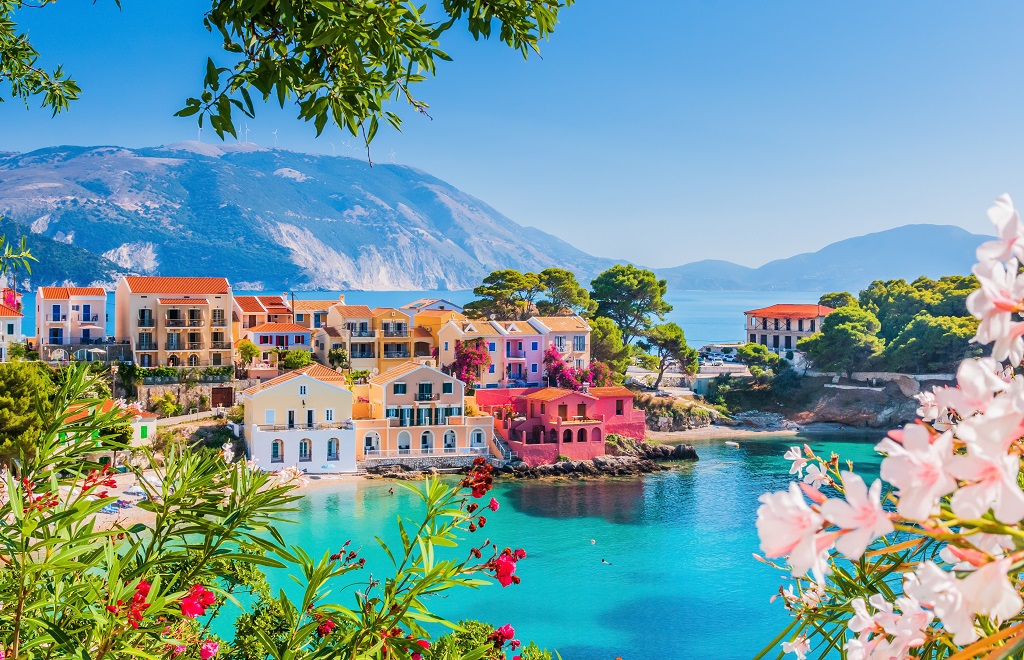 The Hellenic nation is one of the most naturally stunning countries in the world. Sandwiched between the Aegean and Adriatic seas, overlooking the Mediterranean to the south, Greece's environment is breathtaking.
Its cities have ancient culturist beauty, while its various, lush islands dot the surrounding seas providing residents with diverse scenery and boundless activities rarely found elsewhere.
But it isn't just the natural beauty of the country that makes it such a great place to live. Operating on an EU benchmark, Greece is one of the best destinations for those looking for a good standard of living based upon a robust infrastructure, top-of-the-line healthcare framework, and an outstanding education system.
However, it remains worth noting that while Greece provides an EU standard of living, daily living costs are much more affordable than other EU members states such as France, Germany, Spain, and others, making it a fantastic place to live while continuing to grow one's wealth.
The country also makes complex things simple. Setting up a bank account is quick and efficient, and establishing a business is very straightforward and requires low start-up and running costs, thanks to the country's overall affordable landscape.
The economic environment has transformed Greece into a preferred destination for entrepreneurs and investors looking to enter the EU market, while the infrastructure and affordable costs of living, coupled with the pleasant climate, have made it a haven for digital nomads hailing from all over the world.
Greece's golden visa remains one of, if not the, most popular RBI programs in the world for a multitude of good reasons, and investors looking to elevate their lifestyle can still take advantage of it. Doing so, however, requires a skilled partner to help find favorable investment opportunities, handle their case, and support them even after the process is complete, and that is where we come in.
If you are interested in pursuing the Greek golden visa, all you have to do is contact us today.