New developments in the Greek Golden Visa Programme allow unmarried partners and same sex couples to benefit from the same investment in Greece.
On the 22nd of May of 2018 the amendment to the Law No.4540/2018 was voted upon, allowing couples with a cohabitation agreement in Greece to benefit from the Golden Visa Programme, a change that is implemented from the 22nd August 2018 onwards.
The aforementioned amendment contributes to the general climate of acceptance and inclusivity, marking a positive ground for further changes such as the legalisation of marriage amongst same sex partners in Greece.
If this applies to you, all we need to do is help you get a co-habitation agreement in Greece and you can then invest for a Golden Visa and benefit from the same investment of 250.000€.
The process is simple, needing just one appointment with a notary and no more paperwork than just your passport as proof of identity. It costs around 300-500 € and is issued in about a week. We can of course guide you through this as well as help you through the entire investment selection and visa issuance process.
Apart from your partner, it is important to note that the Greek Programme also allows additional family members to benefit from the same investment: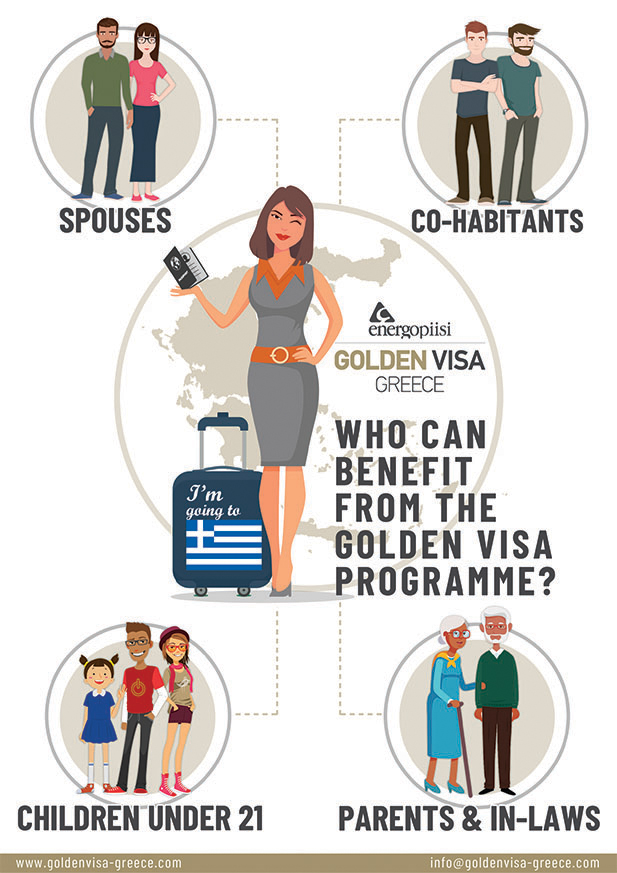 Children under 21 years old, and the parents of the couple can also issue a Golden Visa along with the main investor. With 5-6 people being able to get a residence permit all together spending 250.000€, the Greek Programme can prove exceptionally advantageous for large families.
It is important to note that in comparison with other European Residence Programmes, the Greek terms are very inclusive and favourable towards families since they include family members of the main investor with no additional investment requirements and regardless of their financial situation. For instance in Malta, only family members financially dependent on the main investor are included, whereas in Cyprus, parents need to invest an additional amount to be eligible for a Golden visa too.
If you are thinking of investing in Greece we would be happy to help you make the most out of the Golden Visa Programme. Our experts are very familiar with its terms and country-specific technicalities and can come up with the best ways to customise an investment plan strategically.
We look forward to hearing from you to see how this policy or any other term of the Golden Visa Programme apply to your needs and requirements.
Sources: Image of family by Andre Melcher on Pexels.
Illustration by Ahmed Amin for Energopiisi S.A. Please, if you wish to use our material, make sure it is for non-commercial use and kindly include a link to our website. Thank you.