Greek Golden Visa is a highly favored residency by investment program in Europe.
Thanks to
the low level of investment required (EUR 250,000),
the long term of the residence permit (five years subject to indefinite renewals of five-year periods provided the property is still owned by the applicant),
the granting of residence permits to the applicant's family members (spouses, children until the age of 21, parents of both applicant and spouse),
fast track procedures (40 to 60 days from the time of investment until residence permit is issued),
no minimum stay requirement (just a lawful entrance into the country) and
low application fees,
the Greek Residency by Investment scheme is amongst the most popular European programmes.
The Ministry οf Migration and Asylum General Secretariat for Immigration Policy released the cumulative data for the Greek Golden Visa scheme. Here are Greek Golden Visa statistics as of July 2021.
Residence permits to investors/real estate owners per year

YEAR
RESIDENCE PERMITS
2014
359
2015
771
2016
1254
2017
2209
2018
4102
2019
7637
2020
8575
2021
8692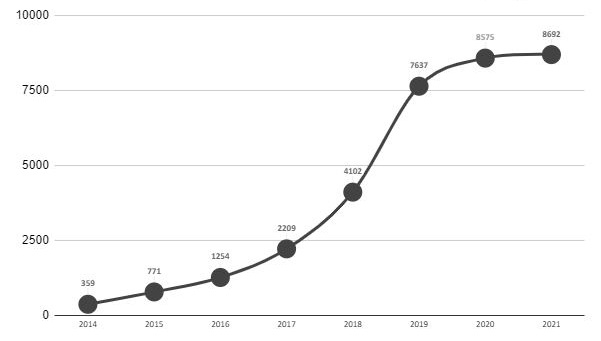 Between 2014 and 2021, a total of 8,692 main applicants received their Golden Visa in Greece.  As of July 2021, a total of 26,123 Greek Golden Visa permits were granted to the main applicants and their dependents in total. These applications directed in excess of €2 billion of global funds into Greece.
Since the start of the Golden Visa program in Greece, the Chinese are holding the top position in the ranking of GV investors while Turkish nationals are in the second place, followed by Russians.
Residence permits to investors/real estate owners – Top 10 countries

China
6190
Turkey
541
Russia
474
Lebanon
226
Egypt
199
Iran
152
Iraq
111
Ukraine
87
Jordan
74
Syria
69
Other countries
569
TOTAL
8692
Residence permits to investors/real estate owners and their families-Top 10 countries

China
18905
Turkey
1477
Russia
1278
Lebanon
715
Iran
489
Egypt
477
Iraq
441
USA
247
Syria
244
Jordan
225
Other countries
1625
TOTAL
26123
Why do Turkish Investors show interest in the Greek Residency by Investment Programme?
The key drivers behind wealthy Turkish investors are mainly the economic instability and the political turmoil in their home country.
The currency reserves of Turkey have been depleted lately as a result of its unorthodox monetary policy. Therefore the country is set to receive $6.4 billion from the International Monetary Fund, as the international organization has decided to make available $650 billion from its Special Drawing Rights program.
Furthermore, Turkish nationals are investing safer futures through business immigration. Hence, thanks to the Greek Residency by Investment Programme, they acquire visa free travel within the 26 Schengen countries and they are able to launch businesses activities in specific sectors of the economy.
Make A Change!
Source: Ministry οf Migration and Asylum – General Secretariat for Immigration Policy
Date: 01.06.2021
Note: The statistical data provided correspond to/reflect the valid residence permits at the moment of their extraction from the database of the Ministry of Migration and Asylum. Therefore, at any subsequent data extraction, the number of valid residence permits per month or per year may increase, given the fact that pending applications are examined by the competent services during the period between two consecutive data extraction dates and relevant new residence permits are issued, with an effective date retroactively corresponding to the date of submission of the application by the interested party